New club targets Scottish Premiership by 2025
Date: 19th February 2018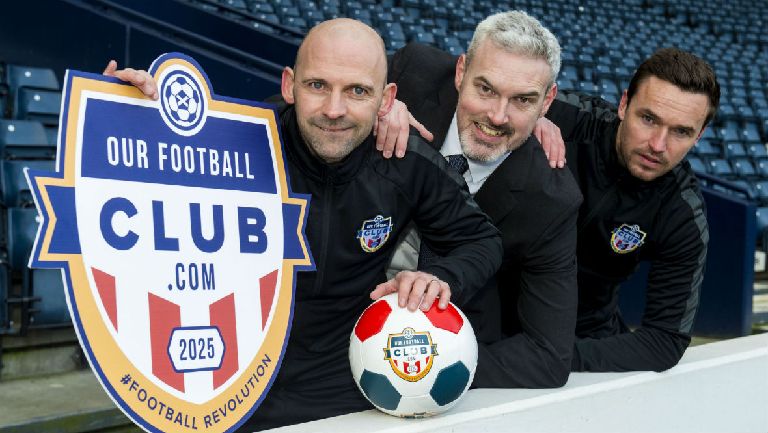 Key headlines:
Edusport Academy to offer £25 annual memberships
Members to choose new club name, colours and crest for 2018-19 season
Members to play a key role in most decisions at the club
Club owner reveals plans to secure Scottish Premiership status by 2025
When 10,000 members sign up, £50,000 will be donated to grassroots projects across Scottish football
Football fans across the world are being given the chance to run their very own club thanks to a pioneering project launched by Scottish Lowland League club Edusport Academy.
Former professional footballer Chris Ewing currently owns Scotland's youngest senior football club but is changing the structure to establish a new club separate from the academy.
For an annual membership of just £25, 'Revolutionaries' will gain unprecedented access to a senior club which has ambitions to reach the Scottish Premiership by 2025.
The ground-breaking 'OurFootballClub.com' initiative will allow supporters across the globe to:
 Choose the team name
 Recommend signings
 Vote on the strip
 Elect board members for season 2018/19
When the new club reaches 10,000 members, £50,000 will be donated to grassroots football in Scotland with the membership deciding where the money should be channelled.
Ex-Motherwell player Chris hopes to provide members with the world's most innovating fan experience, while also giving something back to the game.
Chris Ewing, Managing Director at Edusport Academy and club owner comments:
"Having been promoted from the Lowland League, our business model is evolving. What started off in 2011 as a private football academy has evolved into a football club with full membership of the Scottish FA playing in the fifth tier of Scottish football, just one step away from professional football.
"The business model that was originally set up is now maybe not best placed to support the ambitions of the football club and that is what lead me to think of alternatives. I think the OurFootballClub.com model is a good alternative, something new and exciting and creates a football club for the modern generation of football fan.
"We want this to be the most innovative fan experience in the game. We aim to offer the best and most immersive supporter experience in world football, which is exactly what we feel the game needs.
"We are progressive, inclusive, and are looking to build and engage with an online community of passionate and knowledgeable football fans. Together, we can achieve great things, such as our primary aim of reaching the Premiership (and beyond) by 2025.
"Our Football Club is the name of the project which allows members of the public to buy a membership, then begin making decisions that affect the real Edusport Academy Football Club.
"It is essentially a supporters group with a real difference – it gives its members unprecedented control, including the ability to re-name the team, design the strips, scout new players, select the board and much more.
"Some people may say it is crazy to target promotion to the Premiership by 2025 but I would counter that by saying it's crazy to do the same thing year upon year and expect a different result. That's what a lot of the clubs are doing in leagues 1 and 2, going through the motions every year and getting the same outcome.
"We're challenging the status quo and have the chance to do that as we are a new football club and not hindered by anything. What we are trying to do is provide a service and I feel now is as good a time as any to get involved. The national team has failed to deliver for a number of years, there is an apathy towards the Old Firm and across Scottish football as a whole. It's about using people's passion for football as a catalyst for positive change."
Edusport Academy manager is Ricky Waddell. The former Partick Thistle and Hamilton star adds:
"We have grown quickly since entering the league structure. This is another massive step for the organisation and we hope as many people as possible join us in the adventure. Not only can members support the team, but they can play a big part in how the club is run from top to bottom."
Ricky is assisted by former Hearts captain Colin Cameron. The 1998 Scottish Cup winner says:
"This is a very exciting stage in our development. Football fans around the world are passionate about the sport and this is their chance to play a unique part in the running of a football club."
Part of Edusport Academy's ambitious plans include securing a permanent home, likely to be in central Scotland, with the club hoping to make a further announcement in the months ahead.
Posted in: Latest News