Is It Time For A Regionalised British Football League?
Date: 17th August 2016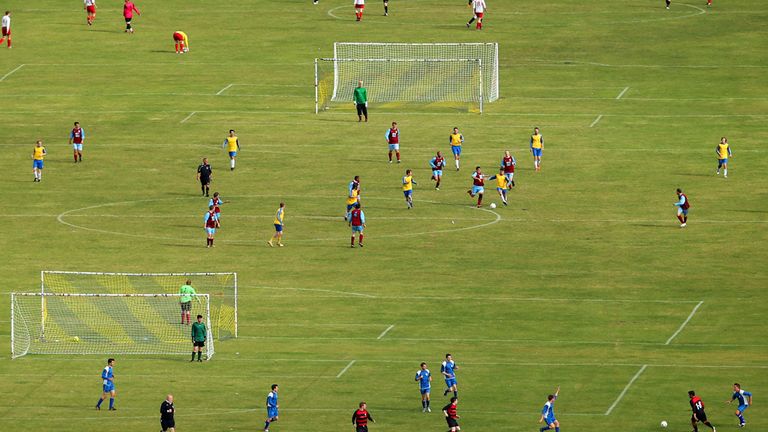 By Kevin Mackenzie, Scottish football fan and Scottish Supporters Network member and contributor.
League re-construction and the Old Firm chasing the riches of English football are issues that Scottish Football has debated many times before. South of the border the English Football League is currently considering re-construction. The likely model is 4 leagues of 20 Clubs below the Premiership, taking the number of professional Clubs from 92 to 100 competing across 5 divisions from 2019/20.
Despite both Scotland and England considering various models of league re-construction, has the merits of a British Football League, with regionalised lower divisions, been seriously considered or constantly over-looked? Before we look at the potential merits of British Football, lets take a look at a possible model that could be explored.
Below a "British Premiership" and "British Championship" each league consisting of 20 Clubs, could be 4 regionalised divisions, also consisting of 20 Clubs. The regions could be:
1. South England
2. Midlands and Wales
3. North England
4. Scotland and Northern Ireland
20 Clubs from Scotland and Northern Ireland would represent 16.6% of total number of professional British Clubs (120). The 4 winners of each regionalised division will have the opportunity of promotion into the "British Championship" either through automatic promotion or a play-off. Below each regionalised division would be semi professional and amateur leagues, a pyramid system bound together by the principle of promotion and relegation. In theory, any ambitious Club from any corner of Britain could achieve promotion to the lucrative Premiership – see the Bournemouth fairytale for an example!
The key benefit to Scottish Clubs of such a regionalised pyramid system would be to retain the identity of a Scottish League, with the addition of ambitious Clubs from Northern Ireland. For Celtic and Rangers, this would provide a route to a British Championship and potentially the Premiership. Likewise a similar opportunity would be created for Clubs such as Hearts and Aberdeen. The remaining Scottish and Northern Irish Clubs would complete in a larger, more competitive league. All Scottish Clubs would have the opportunity to compete against big Premiership Clubs such as Liverpool and Man United in Cup competitions, with the option to retain a Cup competition specifically for Scottish Clubs. For English Clubs, the regionalised leagues would allow lower league Clubs to reduce journey times and increase local derbies.
Would Clubs such as Hearts and Aberdeen benefit from playing in a "British Championship"? Clearly the loss of European football would be a major disadvantage. However, this would be replaced by competing with Clubs such as Newcastle United, Aston Villa, Fulham, Nottingham Forrest and Leeds United.
The financial rewards and TV revenue would be far greater than what is available in Scottish Football, which can be re-invested in infrastructure, youth development and playing budget. Away trips to large stadiums such as St James Park and Elland Road would provide supporters with new venues to visit. And perhaps the Scotland national team would benefit from home grown players competing at a higher level.
Cardiff City and Swansea are both examples of Welsh Clubs that have flourished in their surroundings and further evidence that a British football system, with regionalised lower leagues, could be a viable proposition. Can ambitious Clubs from Scotland and Northern Ireland achieve the same?
At the very least, the opinion of supporters, shareholders and media should be sought to assess the appetite – if the democratic view of the Scottish fitba fan is the most important factor in any major revamp of our national sport.
Posted in: Latest News